Accounting is not fun.
All insurance brokers struggle with commission accounting.
Insurance brokers are sales people who are most productive when they are out selling; not when they are tracking their commissions.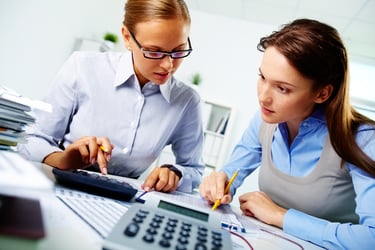 It is a lot of work. At best, it's a hassle. Let us do it for you, want to see how it works?
Do You Do Your Own Taxes?
You probably don't do your own taxes, most people don't. This is because tax accounting is not fun, it is difficult and time consuming and a careless mistake or oversight can cost thousands of dollars.
You should outsource your commission accounting because of that very same logic.
Commission Tracking Can Now Be Easily Outsourced.
BenefitsGuide, the insurance agency management built entirely on the Salesforce Force.com Platform, is now integrated with a commission tracking service. You can think of it as your commissions department.
To be clear, BenefitsGuide is an insurance agency management system - not an accounting program.
However, simply by virtue of using BenefitsGuide to manage your insurance agency operations – AND – subscribing to the commission tracking service, you can focus your time and energy on new business sales and be confident that your commissions are being properly tracked. The information needed to track your commissions is automatically sent on a scheduled basis to the outsource commission tracking service so that you only need to enter your information into one system.
We have partnered with a company that offers a unique commission tracking service for brokers where they take on the tedious task of tracking commissions, finding missing payments, reporting and commission distribution to co-brokers and sub-producers.
Using the BenefitsGuide insurance agency management system and our commission accounting outsource service provides a unique combined solution that allows the broker the ability to focus on selling new business and servicing their existing clients while ensuring that all of their commissions due are accounted for properly.