BenefitsGuide: Lightning Experience, with it's modern, productivity-boosting user experience, is designed to help you to better manage your agency by harnessing the power of Salesforce Lightning.
What makes BenefitsGuide: Lightning Experience so much better?
This is definitely one of those things that you are going to need to see for yourself, but the best way to explain the advantages of the BenefitsGuide: Lightning Experience is that the pages are designed around what you can do, instead of what you can view.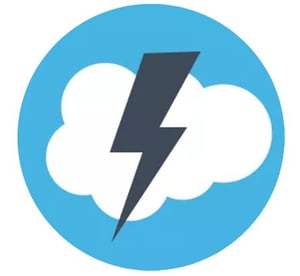 With all new features and redesigned pages, there are so many advantages to the new BenefitsGuide: Lightning Experience including:
Quick access to productivity tools like Activity History, Recent Items, Chatter and Files from every page
New page layouts that focus on what you can do instead of what you can view
Click to Filter Dashboard and Report views allow you to easily see the data you want
Turbocharged list views that let you easily filter and visualize your data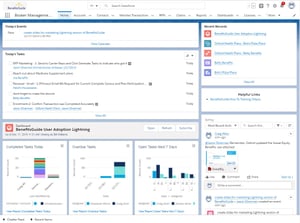 We've re-imagined the way you start your day with a brand new, intelligent Home Page so you can monitor the performance of your team and more easily get insights on key accounts. Plus, we've added this super cool Activity History module to each page so that you can take notes and send emails from every page.
Accounts and Contacts
We've optimized the layout for accounts and contacts, organizing the content so your sales and service reps can quickly and easily find and gather information.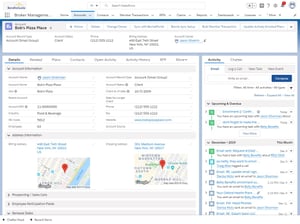 Locate important data efficiently with the redesigned Lightning Experience page layout.
Keep your data clean with field-level duplicate Account and Contact record matching
Review past and upcoming activities without leaving the page
Reports and Dashboards
Everyone LOVES the new BenefitsGuide: Lightning Experience Reports and Dashboards
The updated dashboard editor features components that span both columns and rows
You can now make dashboards with more than three columns
Click to Filter Dashboard and Report views allow you to easily see the data you want
Create filters while viewing a report
List Views
Visualize your data in seconds with List View and Kanban charts
Quickly create filters to refine your data how you want
Use inline editing to make quick changes to records in a list view
Find the data you need in a snap with the list view search bar
Use type-ahead search to find a favorite list view fast
Pin a list view to make it load as your default list.
With so many new and exciting features, we couldn't possibly list them all here. And even if we did, you probably don't want to read about it when you can Experience BenefitsGuide Lightning.